Ready to sell your house but still have residents in it? Don't worry – it's doable. We get a ton of questions from homeowners who lease their homes – and we've got some information to help clear up your questions.
How to Sell a Tenant-Occupied Property
There are so many different situations that can happen between a landlord and their tenants that there's no easy "here's the one trick to selling a property with tenants in it". There's a lot of situations that you need to take a look at in order to evaluate your options for selling. You might be selling because: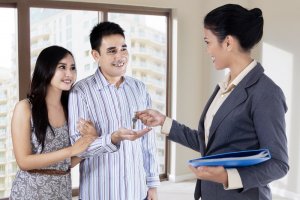 You're prepared to stop being a landlord
Tax base has changed, cost of owning the home is the same
Moving out of the area
Need the money
Got a new job and don't have the time to maintain the property anymore
When you're trying to sell your property and you have a tenant currently occupying it, you'll need to review the agreements in your lease before you consider your sale. You might want to involve a lawyer if you're selling a property with a tenant in it.
Selling a Tenant-Occupied Property
One of the biggest challenges of figuring out how to sell a tenant-occupied property is that there are so many variables. Here are a few different ways to approach the sale, depending on your situation.
Month-to-month Lease
Month-to-month leases are usually the easiest to sell, because you can either transfer the lease to the new owner, or you only need to give the renters a short time frame to move out. It will depend on how the lease was written, but typically, it's a 30 to 60 day notice timeframe. You should already be familiar with the lease terms between you and your tenants, but you may just want to review the terms with your tenants and/or with legal counsel.
Before your sale, you may need to clue your tenants in so you can begin to prep the space. It's more a courtesy than anything, but if the living space is unkempt or dirty, it may lower the value of the home.
Annual or Other Fixed-Term Leases
If your tenant has a fixed-term lease, it may cause more issues. Unless you included an early termination clause or a something similar, the tenant will likely have legal rights to live there. If you have no reason to evict the tenant, you're legally obliged to continue the lease.
You can either wait until the lease ends to avoid unknown legal compliance issues, or transfer the lease to the new owners. We can help you manage this, as well as lawyers well-versed in lease and real estate legislation.
If Your Tenant Doesn't Want to Relocate
Showing the home to buyers, including Metroplex Homebuyers, should be an easy process – unless the tenant decides to be difficult. Nurturing a good landlord-tenant relationship is critical to making smooth transitions between owner-to-owner, but some tenants and landlords just don't mix.
It's common. It happens. Do what you can to prevent it, but any knowledgeable homebuyer will understand that tenants can be problematic. Be sure to mention the relationship early on in negotiations with your real estate agent or homebuyer so they know the nature of the relationship and can best act when it comes to an action plan for transferring the house.
We've seen some landlords try to encourage good behavior during the sale by offering rent discounts for cooperations, helping pay for boarding for pets, or hiring a maintenance team to maintain the lawn and cleaning staff to manage the interior. Anything you can do to make sure the transition goes smoothly is worth considering.
Alternative options:
Sell to your tenant
Sell to a homebuyer
Buy out the lease
If you're looking to sell a house quickly, whether it's got tenants in it or not, talk to Metroplex Homebuyers when you're looking for Real Estate agents. We provide excellent offers for homes all around the Dallas area for people who are looking to sell their homes.
Get More Information on How To Sell Your Home
Selling a property in today's market can be confusing. Connect with us on social media or contact us with any questions.
https://credit-n.ru/offers-zaim/viva-dengi-credit.html
https://credit-n.ru/order/zaymyi-viva-dengi-leads.html